What is PMTA testing?
In preparation for a PMTA, e-liquid and e-cigarette manufacturers will require PMTA testing. But what does PMTA testing involve?
Background
In the US, Section 910 of the Federal Food, Drug and Cosmetic Act applies to the sale and manufacture of e-cigarette products – it is the US version of the TPD. Published in May 2016, it came into effect on 8th August 2016.
E-liquids and e-cigarettes are now categorized as 'new tobacco products' and are regulated by the FDA. The new rules mean that product information must be submitted for review by the FDA prior to marketing.
Under Section 10, there are new regulatory pathways to market. The route most likely to be used by applicants is the Premarket Tobacco Product Application  ('PMTA').
Preparing a PMTA
Preparing a PMTA involves gathering information about the product – including manufacturing process, formulation, toxicology, PMTA test results – and compiling all data in a PMTA dossier according to a pre-defined structure. The PMTA dossier should demonstrate that the product to be marketed 'is appropriate for the protection of the public health' among other things (more guidance can be found here).
The dossier is submitted to the FDA for review.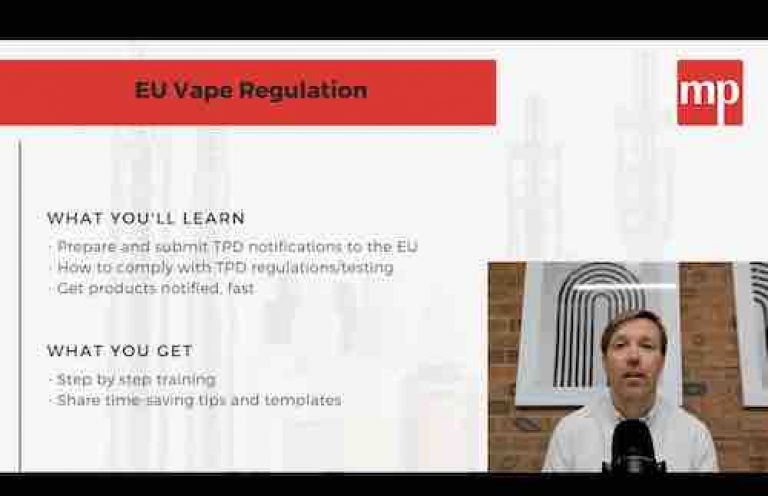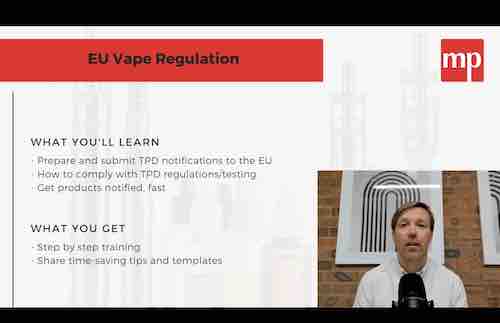 Grow your business in Europe with our EU vape regulation course. Watch a preview here. 
FDA Assessment
The FDA shall review the submitted information and if they agree – that the marketing of the product is indeed 'appropriate for the protection of public health.' – then a marketing order is granted and the applicant can proceed to product launch.